Accomodations
revised 2017 April 24 abC
*New*
This
page now contains 2017 information.
CanBIC has made arrangements with the following two local hotels in Parry Sound to block rooms for the conference from May 23rd to Saturday May 27th..
Parking is free at these hotels, as well as at the Stockey Centre. We will also be providing a conference shuttle bus which runs in the mornings and evenings from these hotels to the Stockey Centre.
If you wish to stay elsewhere, there are also several very nice
Bed and Breakfast
(B&B) hotels near the town centre as well as a few other hotels/motels. Please let us know before booking these other places so we can advise you on distances and other details. If you have any questions about accommodation choices please e-mail us at
canbic@uwo.ca
with 'accommodations' as the subject line.
CanBIC currently has no active discounted rates for hotels at the YYZ Toronto Pearson airport – our apologies.

The Comfort Inn is about 1.5 kms from the Marriott Hotel on Dixon Road (called Airport Road for the Comfort Inn). Please book through a web application like Hotels.com

Comfort Inn Toronto Airport
2.5 stars2.5 stars
6355 Airport Rd, Mississauga, ON, L4V1E4, Canada, 0203 027 9779
Mississauga hotel with restaurant and bar/lounge


Has a free Airport Shuttle and you could take a bus along Airport Road the Marriott Hotel or a cheap taxi ride on Tuesday.

Notes
The ONLY methods of booking rooms at the negotiated hotel rates for the CanBIC conference is to:
(1) Parry Sound Inn, -
book on-line at
www.parrysoundinn.com
using Group=
006199
and PIN=
Can17 (2) For Comfort Inn, e-mail the hotel directly
with
'CanBIC Conference'
quoted or clearly written on your envelope / letter / e-mail message, do not book on-line or you will be charged the normal rate
You will need a valid credit card, phone number and address to reserve
As we have blocked nearly all the rooms in Parry Sound for May 23rd to 27th, you will be told that there is no room availability if you do not make sure that 'CanBIC Conference' is clear!
Hotel Details in Parry SoundParry Sound Inn and Suites (Parry Sound)
292 Louisa St., Parry Sound, ON, Canada, P2A 0A1 (
click for map
)
1-705-746-2700 (local), 1-866-745-8666 (toll-free)
Fax: 1-705-746-0580
The Parry Sound Inn and Suites is now using their own web site for booking
www.parrysoundinn.com
using Group=
006199
and PIN=
Can17
E-mail for booking and questions (using the online form is best): Patricia Stone
gm@parrysoundinn.com
On the conference shuttle bus route
Located near Highway 400 and across the road from the Comfort Inn
Approximately 10 minutes driving or 25 minutes walking to the Stockey Centre
Rates: $130-$169 (plus 13% taxes); light continental breakfast is included
Across the street from Comfort Inn and located close to a number of attractions, activities, restaurants and shops (Starbucks, Canadian Tire, Walmart, Big Box stores and a major food supermarket) as well as fast food restaurants
Free wireless Internet in all rooms
This is the Conference Hotel and Registration will take place here on Tuesday afternoon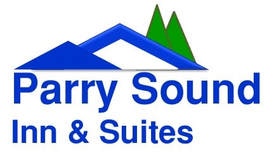 ​
Comfort Inn (Parry Sound)

120 Bowes St

. ,

Parry Sound , ON , Canada , P2A 2L7 (click for map)

1-705-746-6221 (local

)


Fax: 1-705-746-1544
BE SURE TO SEND AN E-MAIL OR CALL - YOU WILL BE TOLD THE HOTEL IS FULL ON THEIR WEB SITE!

Contact name: Ms. Dawn Hancock. Be sure to quote "CanBIC Conference Rate", for either 4 nights (leaving Saturday, or 5 nights (leaving on Sunday).
E-mail for booking "CanBIC": cn288fds@whg.com
On the conference shuttle bus route and is across the road from the Microtel Inn

Rate - 2017 rates are about: $160.00 CAD/night (continental breakfast with extra items included, 13% taxes extra - BUT only if you book by e-mail or phone - do not book on line please.) 2017

RATES to confirmed - the hotel has been extensively renovated and now offers a more substantial breakfast. Please check here for views: http://www.parrysoundcomfortinn.com/

All rooms at the Comfort Inn Parry Sound are air conditioned and have smoke detectors for your comfort and safety

Accommodations for people with limited mobility are available – please phone the hotel for further details
Trappers Choice
50 Joseph St

.

,

Parry Sound , ON , Canada
, P2A 2G5 (click for map)
1-705-746-9613 (local)
Close to an excellent restaurant for breakfast and dinner and a large grocery store

Located some distance away from the Stockey Centre, but IS on the conference shuttle bus route (the shuttle stops next door at the Georgian Inn)
Town and Country Motel (Parry Sound)
http://townandcountrymotelps.ca/reservations-accomodation-rates/
https://www.facebook.com/pages/Town-and-Country-Motel/261721547178267?sk=app_190322544333196
7 Joseph St., Parry Sound
, ON
, Canada
, P2A 2G3 (click for map)
1-705-746-8671 (local)
On the conference shuttle bus route; however the bus does not actually pull into the motel so you will have to flag it down to stop for you

Rates: ~$100 CAD/night + taxes, includes continental breakfast (

7-10 am

weekdays, 7-11 am

weekends)

Must phone or email hotel to book room
------------------------------------------
Bayside Inn 10 Gibson Street
http://psbaysideinn.com/
walk to the Stockey Centre
http://psbaysideinn.com/room-rates-and-info.html
---------------------------------------
Mid Town Hotel
much cheaper - not on the bus route but an easy walk

2016 rates $60-80


24 Gibson Street





Parry Sound, ON P2A 1W8





midtownhotel.ca
(705) 746-2171


1-800-535-8381 toll free in North America


email info@midtownhotel.ca




---------------------------------------





Travelodge

cheaper - not on the bus route but an easy walk

2016 rates $60-80



Parry Sound, ON








(705) 746-1489





-------------------------------------------




Traveller's Hotel

36 Mary St





Parry Sound, ON P2A 1E4







travellershotel.org





(705) 746-9307


Bus passes by but pick up difficult. Easy for a ride back at night., walking distance of the Stockey Centre.


---------------------------------------------






Knights Inn Parry Sound

72 James St

Parry Sound, ON P2A 1T5



Directions

Save






knightsinn.ca





(705) 746-7666


A bit further - and not on the bus route either direction but still walking distance to the Stockey Centre.


----------------------------------------------






List of Bed and Breakfasts in the Parry Sound area


Details on Address and telephone numbers available on the Bed and Breakfast website


Carson

House - Mariner's Rest - Victoria Manor -Drifters - 40 Bay St –







This is a summary of most hotels in the Parry Sound area:




http://www.tripadvisor.ca/Hotels-g181742-Parry_Sound_Ontario-Hotels.html




http://www.hotels.com/de170814/hotels-parry-sound-canada/







And, of course, ask us for advice or if you experience any difficulties. canbic@uwo.ca







2017 April 24 r17-abC