banquet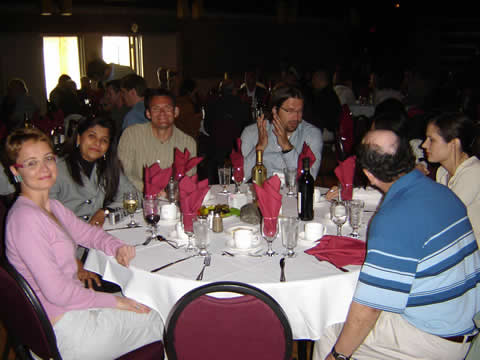 Friday evening
19:30 – 22:30
Banquet
Guests with Banquet Tickets*
Ticket and name badge neededFestival Hall

Buffet Menu (as an indication of the menu to be offered- we reserve the right to make changes without notice

Fresh Rolls & Butter
Relish Platter
Assortment of 4 Salads
Carved Prime Rib au Jus
Supreme Chicken Breast
Pasta (Striped Smoked Salmon/Cream Cheese Bauletti, Linguine in Clam Sauce, Greek Spaghetti)
Medley of Fresh Vegetables
Potato and Rice
Smoked Fish Platter
Imported Cheese Platter
Homemade Dessert Buffet
(Fresh Fruit Platter, Assorted Dessert Squares, French Pastries, Gourmet Cookies, Pies / Cheesecake)
Coffee, Tea, Decaffeinated Coffee
Red and white wine on the tables.

*Please note the early deadline for purchasing tickets on-line on the Registration Menu.
There is also a limit to numbers – so please book early.
Plenty of Banquet tickets available, but we do sell out so don't wait too long before buying your ticket.
​