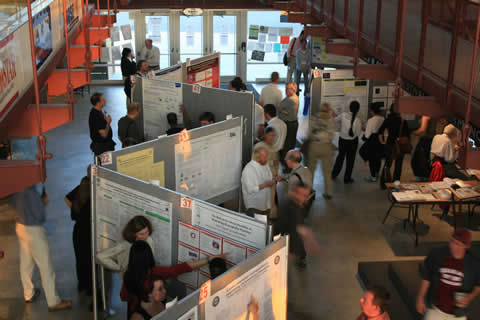 Thursday
19:30 - 22:00
CanBIC Poster Session
Foyer
---
​
​
See the FAQ about the posters.
Posters can be put up starting 8 am on Wednesday and are to be taken down at or before lunch on Friday.
Poster presenters of "Odd Numbered posters" present 19:45-20:30.
Poster presenters of "Even Numbered posters" present 20:30-21:15
Poster board information
· The boards are 8 ft wide by 4 ft deep and use Velcro.
· There are two posters side by side – so make your poster
4 ft (1.2m) by 4 ft (1.2m).
· The MAXIMUM size of the posters is
4 ft (1.2m) by 4 ft (1.2m) (it is possible to be deeper by hanging off the bottom of the board).
· All poster spaces are numbered and you will find your poster number on-line in early May and in the programme book.
· We will supply the Velcro dots to attach your poster at the Info Desk at the Stockey Centre.
· No other method is allowed to ensure no damage to the surface.