Music at CanBIC
CanBIC-7 in 2019
Two violin and piano recitals in the Performance Hall

Wednesday 25thMay CanBIC-7 in 2019

Thursday 26th May, 2019
20:00 - 21:00
Reception to follow in the Atrium

19:30 - 20:30
Reception and Poster Session to follow in the Atrium
Recital

These events are free of charge and open to the public
Katie Stillman (violin) Miaomiao Yu (piano)

Performance Hall


Programme 8:00 – 9:00 pm, May 25th to be announced*



Programme 7:30 – 8:30 pm, May 26th for CanBIC-7 in 2019*
A salon entertainment …
You are welcome to bring your drinks tonight - the tables will be set for this relaxed atmosphere recital

*Subject to change

---
Katie Stillman
Violin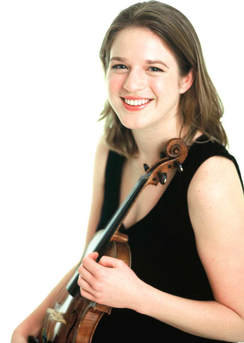 Canadian violinist Katie

Stillman's

career encompasses a wide variety of solo work, chamber music, orchestral performing and teaching.Toronto. Whilst still only fifteen years of age, Katie toured Mexico giving recitals in Mexico City, San Miguel, Cuernavaca and Monterrey. In 1998, aged sixteen, Katie won the prestigious Grand Prize at the Canadian Music Competition in Montreal. Already establishing herself as a highly successful young soloist with regular appearances both in Canada and the UK, she subsequently won Radio Canada's Young Artists Performance Prize for the broadcast of her Toronto recital.From an early age Katie began attending Pro Corda, a chamber music school situated in

Leiston

Abbey, Suffolk which provided chamber music training for talented young players during the school holidays. She was a founding member of the Barbirolli Quartet which was selected by the European Concert Halls Organisation as the UK Concert Halls' nominated 'Rising Stars', leading to a tour of Europe's major concert halls in thirteen cities. Other highlights included concerts at the

Verbier

, Aldeburgh and Aix-en-Provence festivals,

Mananan

International Festival, the Lincolnshire International Chamber Music Festival and

Septembre

Musical Montreux Festival. They released a CD of Britten, Bliss and Delius on the Nimbus Label in 2012.
Katie formed a duo with English pianist Simon Lane whilst studying at the Royal Northern College of Music in Manchester and they celebrated their 10th Anniversary year in 2015. In their first competition together in 2005 they won the RNCM Helen

Porthouse

Paganini Prize with a performance of the Brahms G Major Sonata. In the spring of that year the duo were chosen for the

Tillett

Trust Young Artist Platform, leading to their

Wigmore

Hall debut where they "combined tenderness, wistful nostalgia and red-blooded passion in an interpretation of terrific distinction and compelling emotional force" according to the Daily Telegraph. This prize also provided many other concerts around the UK, both at music societies and concert halls such as St. George's, Bristol and Croydon's Fairfield Hall. The duo has won numerous other awards, including being selected for the Worshipful Company of Musicians' Maisie Lewis Award and the Park Lane Group Young Artists' New Year Series at the Purcell Room.In parallel with her chamber music work,
Katie enjoys a busy orchestral career. She regularly guest leads and co-leads many of the UK orchestras including the City of Birmingham Symphony Orchestra, the Bournemouth Symphony Orchestra and the Manchester

Camerata

, as well as smaller chamber ensembles such as London

Concertante

and Birmingham Contemporary Music Group (BCMG). She is co-leader of the Manchester

Camerata

. She is a member of the Academy of St Martin in the Fields, frequently touring with their musical director Joshua Bell and artists such as Murray

Perahia

.Katie enjoys working with young people. She has given masterclasses and workshops for children in schools, some supported by the Worshipful Company of Musicians. Katie is a faculty member at

Chetham's

School of Music in Manchester, is the Upper String Tutor in Practical Pedagogy at the Royal Northern College of Music and performs regularly in concerts for children with Bach to Baby.
Highlights of this season include performances in Leeds, Manchester and Barrow-in-Furness of Bach's Violin Concerto for two violins with Manchester

Camerata

, a performance of Vivaldi's Four Seasons with London

Concertante

in Coventry Cathedral, directing a performance of Bartok's Divertimento for Strings in the Roman River Festival, as well as leading Dvorak's Quintet Op. 77 for string quintet. In the past year, they have included solo performances with Manchester

Camerata

and London

Concertante

, leading a performance of George Crumb's quartet Black Angels with principal members of Manchester

Camerata

in the Royal Exchange Theatre, leading BCMG at

Wigmore

Hall live on BBC Radio.
http://www.tashmina.co.uk/artists/katie-stillman/
---
Miaomiao Yu
Piano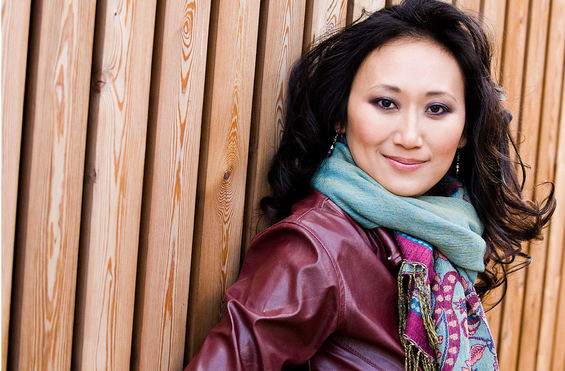 Known for her artistic mastery and effervescent stage-presence, pianist Miaomiao Yu has delighted audiences across North America and Europe in venues including the Toronto Centre for the Performing Arts
, the Musikhalle in Hamburg , National Concert Hall in Dublin ,
Cadogan Hall,
St Martin-in-the-Fields
and St James Piccadilly, London . Her broadcasts on television and radio include Channel 4, BBC London, BBC World Services, RTE (Ireland), CBC and Bravo (Canada).
Miaomiao has gained much recognition on the international scene with prizes at the Hong Kong International Piano Competition, Toronto Symphony Piano Competition, London International Concerto Competition, Bromsgrove International Young Soloists Competition, Imperial Oils Young Performers Competition, and the Royal Overseas League Competition.
Miaomiao's international upbringing on three continents provided her with a unique set of experiences to create her rich sound palette. Since receiving her first scholarship at the age of 11 from the
Royal Irish Academy of Music
, Miaomiao went on to garner over 50 awards including the
Wingate
and the Countess of Munster Scholarships in the UK, and was a
Rotary International Ambassadorial Scholar
representing Canada. Miaomiao attended the Young Artists' Performance Academy, a pre-college programme for gifted young musicians at the Royal Conservatory of Music (RCM) in Toronto. She received her Bachelor of Music degree from the RCM, and Masters in Music Performance from the
Royal Academy of Music
in London.
Miaomiao is the founder of the acclaimed concert series
"Bach to Baby"
, an innovative series designed for babies and their families where Miaomiao performs with internationally renowned guest artists.
Since 2007, Miaomiao has been a Professor of Piano at the
Guildhall School of Music and Drama
, London, UK junior department. She lives in an eco-house with her husband Jo and sons Mercutio Hanhan and Aubrey Keyan.
https://www.bachtobaby.com/foundingartist/
​